ThePriceX Used Insights Reports Two-Wheeler April 2023
Insights Report analyses used two-wheelers, divided into motorcycles and scooters by engine capacity
June 19, 2023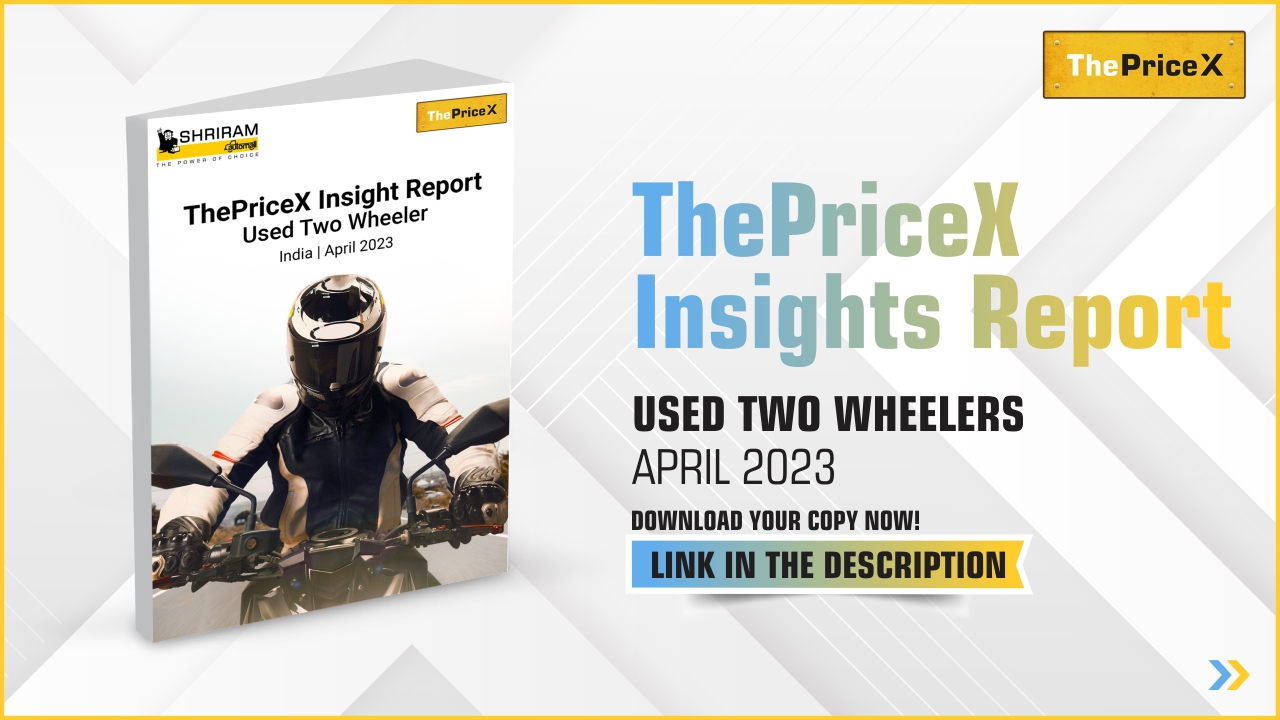 The two-wheeler industry in India has faced significant challenges over the past three years, attributed to factors such as the Covid-19 pandemic, sharp price increases, and policy changes. However, in the financial year 2022–23, the industry finally experienced growth. According to the Society of Indian Automobile Manufacturers (SIAM), the two-wheeler segment saw moderate growth in sales of 17% during FY 2022–23. ThePriceX Insights report on Two-Wheelers provides a comprehensive overview of price trends and sales data of used two-wheelers across India over the past two years.
Attributing the growth of used two-wheelers are several factors, including an increased supply of well-maintained two-wheelers, the availability of affordable financing options, the presence of organized players like Shriram Automall, a positive outlook for personal mobility solutions, and a rising demand for eco-friendly transportation options. The report delves into specific numbers regarding the increase in sales volume and transactional values.
ThePriceX Insights Report focuses on used two-wheelers and is divided into two main segments: Motorcycles and Scooters, categorized based on different engine capacities. The sales data for used two-wheelers has been gathered from over 120 Automalls spread across all six zones in the country. The report provides detailed information on sales, median prices of specific models, zone-wise sales, and insights from Q1 FY 21-22 to Q4 FY 22-23.
For motorcycles, the engine capacities are categorized as follows:
More than 75cc but less than 110cc

More than 110cc but less than 125cc

More than 125cc but less than 150cc

More than 150cc but less than 200cc

More than 200cc but less than 250cc
For scooters, the engine capacity falls within the range of:
More than 90cc but less than 125cc
Additionally, the report presents a comparative landscape of the used two-wheeler market in India. It includes data on the segment-wise dominance of two-wheelers based on SAMIL research, sales breakdown of different body types (Motorcycles, Scooters, and Mopeds), and sales of used two-wheelers in the six zones across the country. The comparative dominance of various two-wheeler manufacturers in India is also analyzed.
To provide a clear understanding of the used two-wheeler market in India, the report covers changes in market size, the increasing prominence of online sales, the growth of organized retail, and regional growth trends.
The demand for personal transportation has been amplified by the Covid-19 pandemic, and the push for electric vehicles has further fueled the growth of the used two-wheeler market. The online used two-wheeler market is expected to flourish due to heightened awareness of online shopping platforms like www.cartradeexchange.com and bids.samil.in, increased internet penetration, and the convenience offered by online portals for purchasing used two-wheelers.
The above information summarizes the latest edition of ThePriceX Insights Report from April 2023. SAMIL's ThePriceX Tool utilizes machine learning algorithms to evaluate vehicles based on various factors, including make, model, age, and mileage, to estimate an appropriate price range. The price indexes are validated by correlating them with key industry metrics to assess the degree of change in used vehicle and equipment prices over time.
The Insights Report provides essential elements, latest trends, up-to-date information, reviews, and outlooks on used vehicles and equipment sold at the SAMIL exchange platform within a specific time frame.
To stay informed, you can subscribe to ThePriceX Insights Reports and receive a free copy every month, featuring the latest price and inflation trends through this link:Insight Report
For more information about Shriram Automall, its group companies and services, please visit www.samil.in