ThePriceX enhanced with addition of Two-Wheeler, Three-Wheeler and Farm Equipment Pricing
ThePriceX will now offer pricing of used two-wheeler, three-wheeler and farm equipment.
August 18, 2022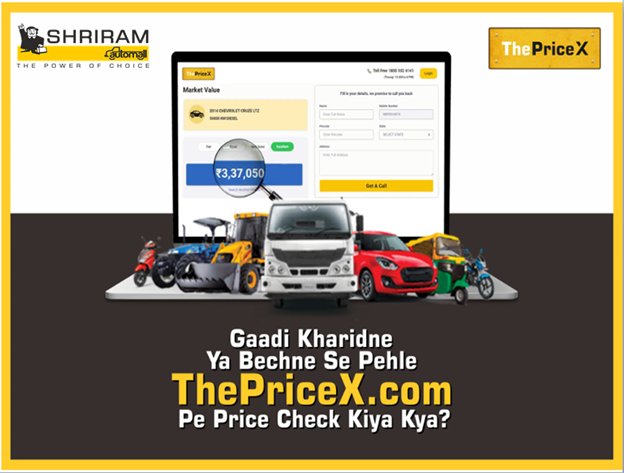 We're giving access to our Pan India teams for used vehicles and equipment's price databases with our price tool ThePriceX –www.thepricex.com
ThePriceX provides an integrated platform with a single, user-friendly dashboard view for all used vehicle categories - 2W, 3W, 4W, Commercial Vehicle, Construction Equipment and Farm Equipment pricing that you can check from your desktop or mobile device. Because it's a cloud-based platform blended with advance machine learning, we are always updating it with added features that help the customers valuate the vehicle price basis seller type (Banks and NBFC, Insurance, Leasing, OEM and Retail)*
Pricing plays a key part while purchasing or selling vehicles and it's crucial that you get it right.
You might already have a figure in mind, or you might just want to go for what "feels right." But, before you make your decision, remember that pricing can be a complex yet subtle task.
If you set your price intelligently, you'll be more likely to generate good sales and in turn, higher profits. Set it too high or too low and you risk losing both customers and revenue.
We're giving customers access to our Pan India used vehicle price databases with our price tool ThePriceX –www.thepricex.com
Highlights
This tool is designed to help individuals and businesses to -
Check the best price for any vehicle of any category
Available online, 24x7 & mobile friendly.
Advanced Machine Learning For Any used Vehicle Pricing
Search vehicles' values in 4 easy steps.
Filter search results and research price variances by region and utilization
Data supported by millions of transactions done at SAMIL's Automalls
Valuate the vehicle price basis different seller type – (Banks and NBFC, Insurance, Leasing, OEM and Retail)*.
Wide Range of Used Vehicles & Equipment
Shriram Automall India Limited (SAMIL), an ISO 9001:2015 certified company which pioneers in serving the most organised bidding platforms to facilitate the trade of used vehicles and equipment. It serves an exhaustive range of used commercial vehicles, construction equipment, tractors, buses, cars & SUVs, 3 wheelers and 2 wheelers to create a unique experience for its customers, across India. Every deal at SAMIL is structured on the ground of transparency where several Indian dreams ride with utmost dignity.
Are you interested in the market value of your equipment? Talk to our SAMIL representative and find out how we can help you with valuation and selling.
Sell My Vehicle Check My Equipment worth
Feature currently available under paid subscription for 4W, Commercial Vehicles and Construction Equipment only.